So I've noticed I like to photograph every cute moment I can. Even if I just see Porcupine sleeping, or the three eating hay together I just have to snap a shot! Its the little moments like that that make me so happy to be a piggy mama. So I thought I'd share mine and invite you to share yours! Those moments when your piggies were just to cute, funny, or even grumpy and you just had to take a picture before they stopped. I have way to many so here's just a couple from tonight.
My three have only been together as a trio for just over a week so anytime I see them doing something together, like sleeping or eating, and they aren't grumbling at each other, I get all warm and fuzzy inside! So I had to capture this shot (Porcupine is the abby, Bear is the black and white american and Odair is the other american):
Then there is Porcupine, my lovely abby who really is the spoiled baby of the group, even though he and Odair are the same age. He is the lightest by a fair margin but don't let that fool you, he is an abby in every sense! He can be a brat but he knows how to turn on the cute factor which is why I have many pictures like this: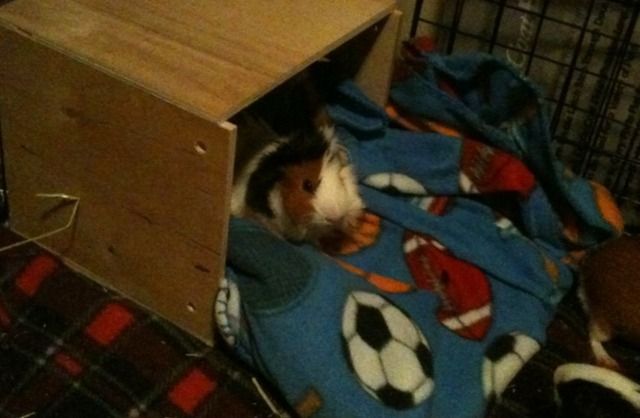 So lets see those moments that just make you happy to be a piggy parent!