If there has already been a post like this before I came along then I apologize, but I just haven't seen any threads in The Cafe where people post pics of their other pets, so I thought I should start one! (I couldn't help it, I love my piggers dearly, but I like to show off all the furry babies in the house, too!)
First is Zoe, who is and always will be, my special girl. Here is the short explanation of why she is so special to me... Before I developed the disorder that has taken away my ability to have children, I became pregnant at 18 due to an assault, (won't/don't want to go into detail about that whole traumatizing mess,) though I had no question that I was going to keep my child. Well, my daughter, Crystal Angel, was stillborn. And within the same month, my beloved cat Goldie, who I'd had since I was about 6 years old, passed away. I was in so much emotional pain, it really is absolutely and completely indescribable. I was ready to die, and was actually hospitalized and put on lockdown in an acute crisis psychiatric ward for being so suicidal and unable to think rationally. Well, I was home, and my mom took me to a no-kill shelter, with the intention on letting me adopt a new cat. But, I don't know, it's so hard to explain... have you ever been at a shelter/rescue, and you lay eyes on an animal, and something just.... clicks, and you immediately know, that you and that animal are supposed to be together? I know it sounds weird. But as soon as I layed eyes on Zoe, a tiny little 6 week old Border Collie, in my mind there was just no need to look at any other animals. She was my baby, and that was it. The lady that ran the rescue said that she rescued her from the pound the day before she was scheduled to die. My mom wasn't prepared to take home a young untrained puppy, she was just expecting a cat. But I guess she saw how my heart had already grabbed onto this little puppy, and she came home with us that night. That was in August of 2001. She is now a little over 6 years old, and remains my special baby girl to this day. If I was offered all the money in the world, I wouldn't take a second thought about giving her up. We belong together. Any way, I'm so sorry, didn't mean to turn this into a novel, just wanted a simple picture thread. Geez, am I the queen of my mouth running away with me or what? :guilty: Hope no one thinks I'm a freak for anything I said. But anyway, onto the pics.
Here's Zoe as a little pup, when I hadn't had her long yet: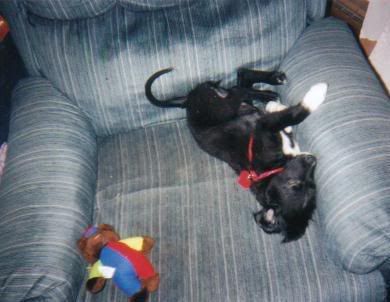 And here she is all grown up: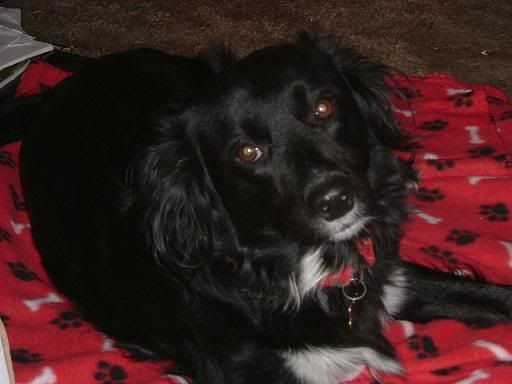 Okay, and now, my big ole' 90lb. lap dog, Zeus. The shelter had him labeled as a Shepherd/Husky mix. We got him in 2002, and he was already an adult, but was obviously mistreated and has special issues and needs. He is extremely sensitive and insecure, but I can promise you, he couldn't have ended up in any home where he would get more loving and reassurance than he does here. He's my boy, and Zoe and him have been best friends since day 1 when we brought him home.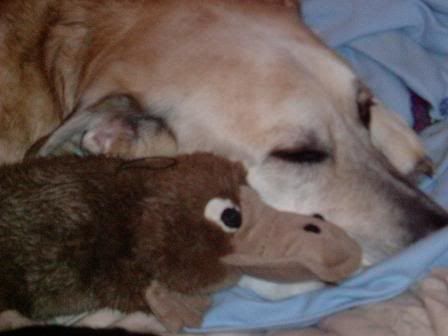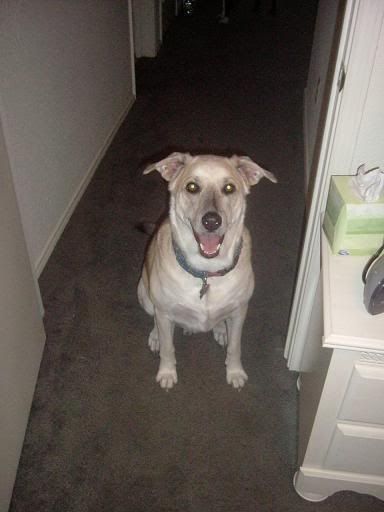 Okay since this has been so much longer than I planned, I will put the cats in another post. I really hope I haven't broken any rules by rambling on like the idiot I am. Sorry. =(