I haven't been one Cavy Cages for a couple weeks now... I have a really stupid reason, too. I'm addicted to deviantART now and I rarely check up on Cavy Cages. I was wondering if anyone could fill me in on what has happened while I wasn't here? Any major things happen?
My pigs are doing fine. It's getting warmer, so in a month or so they might be able to go outside! We brought them out on... Monday, and they were so excited! The grass is growing taller and we have happy little piggies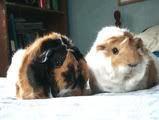 Here's my happy little piggies
*Edit* Why did my posts go down?