My sweet little Emm died on Wednesday.
Older members will remember her as the fourth of my Ms, one of two who came from a hideous 'visitor attraction', rescued by Thistle, and adopted by us in October 2006. Mellow and Emm's story is
here
. They had lived in ridiculously overcrowded conditions, suffering from malnourishment and general neglect, and were rescued along with over 100 other piggies.
Emm was the skattiest piggy I have ever seen, but settled in well (after a while). She grew to be quite a character - a very nosey pig who got over her fear of everything to investigate at every opportunity. I knew from the moment that she stole mary and Marbles' carrot from between the divider bars, pre-intros, that she was an eccentric individual! I remember describing her as having autistic tendencies socially, I seriously had to watch myself when cleaning out their cage, because as the other girls were hiding in the hay loft, she was sniffing around under me - wondering what was going on!
She always drank a lot of water - I had some job keeping up with her thirst. I knew that this wasn't a good sign, but she was otherwise healthy and happy.
Until a week past Sunday. I had only just recovered from two horrible bouts of flu/colds. I hadn't picked the girls up for about a month, as I was really quite unwell. (Obviously they were kept fed and cleaned etc, but I wanted to keep contact to a minimum whilst I wasn't well) I noticed that Sunday that she was a bit puffy, and a little hunched. I couldn't believe it when I picked her up, because, apart from the fact that I managed it without a chase, she was so little. Her weight had dropped by around 200g, so I was really worried.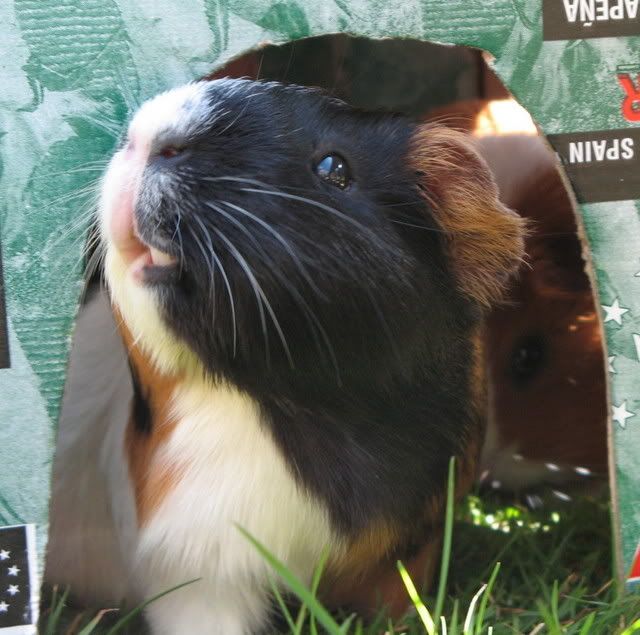 I made an appointment with the vet, started giving her critical care and contacted Thistle. Wendi confirmed what I didn't want to believe, that it didn't sound good. The vet said that her kidneys were enlarged. I offered to try and get a urine sample, and took dip sticks and some baytril home. Thistle kindly sent me more appropriate anti-biotics and some painkillers, and as they were in the post, I gave her calpol. I was worried that as she was puffy and hunched, that she was in pain.
On returning from the vet, I sat her in the bath, and syringe fed her water. When she wouldn't take more, I offered her wet veggies (cucumber, wet romaine and red pepper). It took longer than anticipated, but she pee'd. I syringed up a sample, and dip-sticked some too. The protein bars changed drastically, and the vet confirmed that the sample was 'teeming with casts, protein and some blood (which wasn't visible to the naked eye).
She deteriorated steadily - from pretending to eat (sitting close to the other girls, nibbling at/playing with her veggies), she stopped coming down from the hay loft for her fresh veg. The critical care was getting more difficult to get down her, then began to just lie in her mouth. It was heartbreaking, and on more than one occassion, I decided that I would take her to the vet to be 'put to sleep'. I had this distant glimmer that she might recover - there was still some fight in her.
I gave her as much water as she would take, a weak mix with sodium citrate, and used my garlic press to 'puree' her favorite veg, for syringing. I knew that she wasn't going to get better, but taking her to the vet just wasn't 'right'. Whilst she wasn't well, she wasn't suffering - just getting weaker, and weaker, and becoming distant. Near the end, she sat facing the corner of the loft if she wasn't in my arms.
On Wednesday morning, I knew that she wasn't far from leaving us. I'd been getting up at 6.30 to have more time with her before work. Sometimes it took more than that extra half hour to try and feed her. I could hear a faint noise to her breathing, and when I picked her up, she had little muscle tone. It seems silly now, but I gave her her septrin, and her calpol. I laid her on my lap, still wrapped in the towel I'd been swaddling her in, so I could eat the last of my cereal, then picked her up again. In those few seconds, she had gone.
It was funny, because I could just tell that she had gone. I remember when Midge died, I spent about 20 minutes trying to see through my tears if she was still breathing or not, it was awful. But with Emm, I knew. She had such a strong spirit; she was so different when left without it!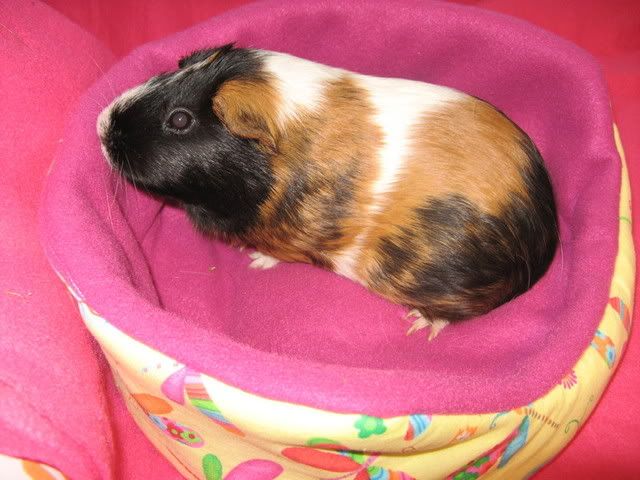 My son was sad, but less vocally upset than his soppy mum! Whilst I know that we gave her a good life: an enormous fleece lined cage with cozies and cushions galore, the best grass hays, quality pellets and veg. (kept fresh in the new larger fridge I purchased specifically to accommodate the quantity), spells out on the specially weeded lawn on warm summer evenings, regular grooming sessions, complete with pedicures and extra cuddles, and three very special friends - a bond made stronger by the difficult start, I can't help but feel so sad that her life was cut short. I am a sentimental fool at times, and times like these find me bubbling unashamedly in sorrow filled waves of regret.
I feel also passionate aggression towards the ignorance of her initial owners, who saw fit to keep her with 60 others in a cage smaller than the one she lived in here with her 3 companions, who didn't offer enough water to go round and thought an occassional slimy cabbage would do as a change from the bark chippings the piggies had been chewing for lack of food, who neglected to see her blistered eyelids and tattered ears, and chose to ignore that she shared a pen with many others who looked so alike.
My sweet little Emm had a different look to her - she was a bit 'ratty'. Whether her premature death was due to some inbred flaw, or as a result of initial neglect, her short life filled our lives with joy, humour and love.
Thankyou Emm
YouTube - "Hello Emm!"