Well, Let me say something.....last year in Febuary I think it was, our first dog Buddy, bit my little sister (He had been having aggression problems for a little while), my mom said that's it he's gone! And me and my siblings, begged and pleaded with her, and she finally said "Okay, we'll keep him, but he has to get trained." When we were taking him to the vet, a lady told us about a great behavoir trainer, and so we called her, and a week laer I think it was, we took him to her, and she kept him for almost a month to work on him, and we could come and watch training sessions sometimes, but we had to keep from his view, or he would get distracted, and excited, and when the time was up, and we came to get him, he was SOOOO much better, and obedient, and everthing was fine, until August that is. In August, when I had a friend over, when we were gettign ready to take her home, Buddy bit her. You see, my mom had had a baby earlier that month, and she had been holding him, and I think maybe that was the reason, because Buddy was overprotective, and I think he thought, she was trying to hurt him. Well, mom siad "That IS it! He HAS to go! We can't risk him biting Karah (My little sister) or Micah! (My little bro that my mom had just had), SHe called the trainer to see what we should do about it, whether someone with a farm could take him or what (becaus ehe needs lots of room to run, since he was so energetic, yes we took him for two long walks every day, and let him outside andytime he wanted, except in the middle of the night), ans she called back a day or so later, and said no he wasn't (she knew because she had worked with him), and said either use a very mild shock collar, or put him down. Now, I was't expecting this, but mom said we would have to put him down. My mind was screaming "No!! You can't! It can't happen!" and I knew that a shock collar just wouldn't work, and isn't the best idea, but I thought "Well, he could become an outside dog, and the little ones wouldn't be able to be with him, or any strangers or anything.....but the next day mom was calling around, and scheduled his death. Mom said only my dad was going to take him, because she didn't want a bunch of kids in the waiting room crying, but I insisted that I go, and I wouldn't take no for an answer, she gave in, and the next day, I felt like I was really sick, I couldn't even look at him without thinking "This isn't fair!", and when it was time, I got the muzzle (yes we had to muzzle him), and the leash, and the prong collar, and we got into the car, now it was torture! It was a 30 min. to about 45 min. drive because it was in a different town, because it was cheaper their. The whole way their Buddy was looking outside, and smiling his cute doggie smile, and then he slept with his head in my lap, tears were brimming in my eyes, and when we go their, when we were in the waiting room, I knew I was about to cry, when we got in the room, I just started crying. Buddy knew something was wrong. When she came in to give him the stuff to make him sleepy, we had a struggle getting it in, it took two 3 people to hold on to him. When she came back a few min. later he was still wide awake and alert, she gave him an even higher dose, and left, when she came back a few min. later, it still wasn't working...his head was swaying, and he was acting funny, but he was barking at the vet, she gave him an even higher dose, and left, she came back a few min. later, and it had worked, she said to let her know when we were ready, and left, I was just crying my heart out. After a few min. he said if we prolong it longer the harder it was going to get, and I should have begged with him to not let it happen. When she came in the room, she looked like she was about to cry, she put the thing around his arm, and slowly slid the needle in. He was dead. Never coming back. Never. Never. We took him out to the car in his cardboard coffin, and the vet hugged me and said she hoped I would be okay. When we got home we buried him. I began to really wonder what does dead really mean? I mean you can't think. You can't breathe your not alive, can't do anything. I miss him so much!!!
I LOVE YOU BUDDY! FOREVER!
I feel so guilty! It was my fault! I should have stopped it and I didn't! It IS my fault and always will be! He was border collie/golden retriever. Here are some pictures of him.
This is of him sniffing a lady bug that my sis is holding, it shows his softie in him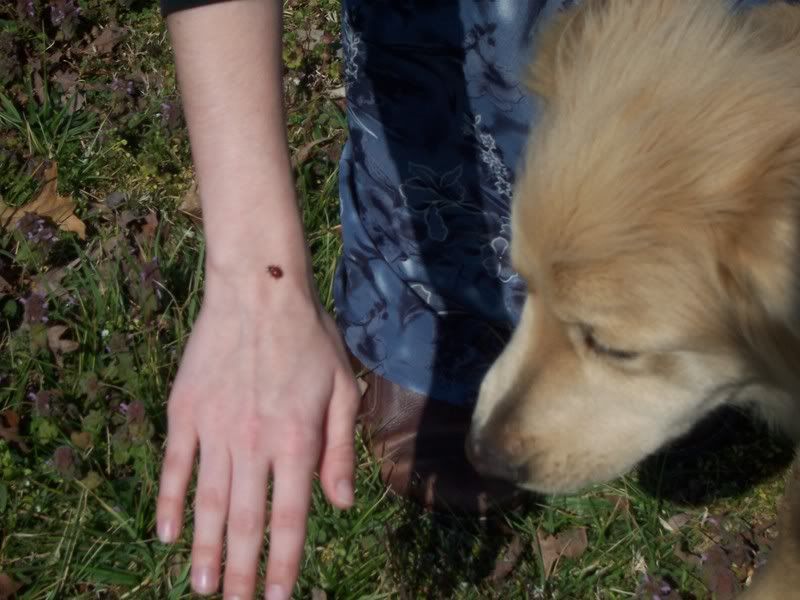 Here's my baby sitting in the shade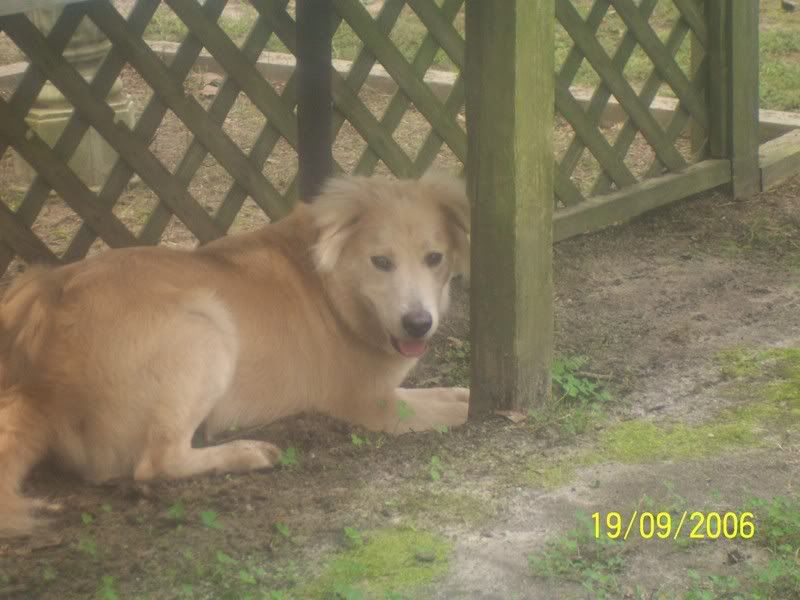 Laying in the sunshine
Trimming a bush for us