Since my last update in October, quite a few changes have taken place.
Towards the middle of November we found out that our house (renting) was going up on the market, so we had to find a new place. Cue weeks of seeing many houses. We found one in a quite little suburb opposite a dog park (the dogs love it!). It is a little on the small side and we are still renting, but it does the job for now. We have our eyes on a new estate being developed a little further south from where we are now. The land is a bit cheaper there and we are hoping to buy a block and build. Towards the end of the year we should be in a financial position to be able to do so. Very exciting!!
In the meantime we are stuck with renting. Not a single house allows animals inside, but we keep them inside anyway and just ship them outside for the inspection. To do so we have had to construct a new cage. This cage had to have the ability to split into 3 sections so that it can be manouvered through hallways and doors. It also had to be on wheels. I came up with a plan, with the middle cage being a little taller than a grid (easier to clean) and the bottom cage being two grids high for the bunnies. I wanted the whole front of the cage to fold down for easy access.
So we went to the hardware store and brought heaps of aluminium tubes. We cut the tubes to size and connected them together with 3 way and 4 way corner pieces. Once the frame was built, we cable tied grids to the outside, and inserted the corflute bases. The cage is 180cmx80cm - bit bigger than a 2x5. To go with the new cages, I purchased 2 bedspreads from piggybedspreads. They are honestly fantastic and greatly cut down on the time it takes to clean the cage.
Piggybedspreads in old cage;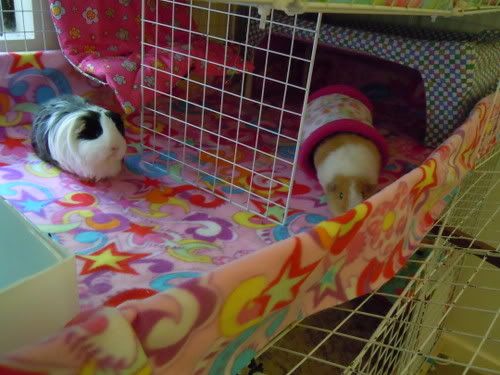 New cage;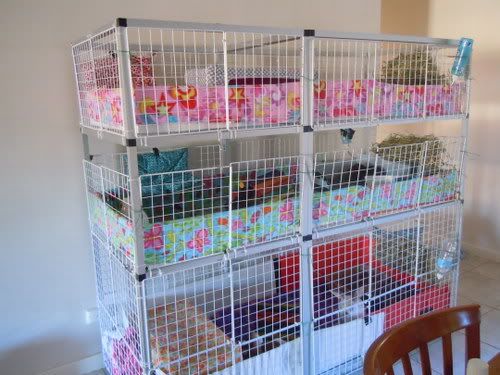 They have their own wardrobe too now!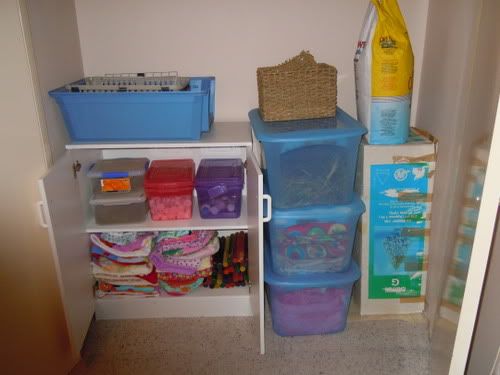 Unfortunately, around the middle of December, Toffee fell ill. I noticed she had lost a bit of weight so booked her in to see the vet. The vet discovered that her mucous membranes were bluish, indicating she wasn't getting enough oxygen. We figured it was probably her heart getting worse (she had a heart condition). She was also quite gassy. So we started a new treatment regime, and she appeared to be improving. I came home after being out all day Christmas day to find her very unwell. Being Christmas our vet options were limited, so I tried my best from home - administering critical care, some rehydration fluids, pain relief and trying to keep her cool. She would look like she was improving, and then crash. She started fitting. At one stage the fit lasted for 2.5 minutes and it was another 2.5 minutes before she had semi-recovered from it. It was then that I decided it was cruel to keep on trying. We opted to let her go peacefully.
Toffee (on right);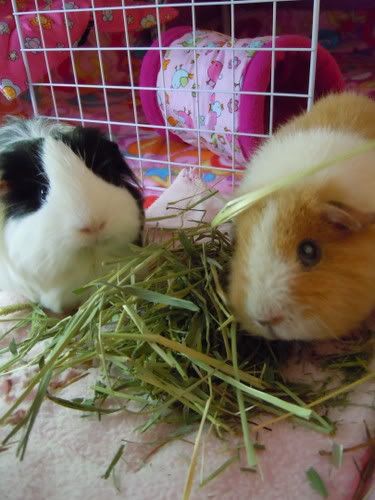 I made a memorial video too.
YouTube - Remembering Toffee
Ella was left alone. She had lost her soul mate, and whilst she kept on eating she wasn't herself. We were due to go away the first week of January, so had no time to organise her a new friend prior to that. The animals all went in to boarding and we arranged it so that Ella was in an adjacent cage to the other pigs. She couldn't go in with them as they do not get a long.
We came back from holidays, and moved house and Ella took to spending her days in the hayrack. It was very unlike her. I thought I had found a friend for Ella, who was of the same age. But they never replied to my email. Thankfully, a friend who had an accidental litter offered us one of her babies. And so we got Milly.
Milly was 6 weeks old when we got her, and gets along beautifully with Ella. She is a little fluffy texel and is nicknamed "Little Lamb."
Milly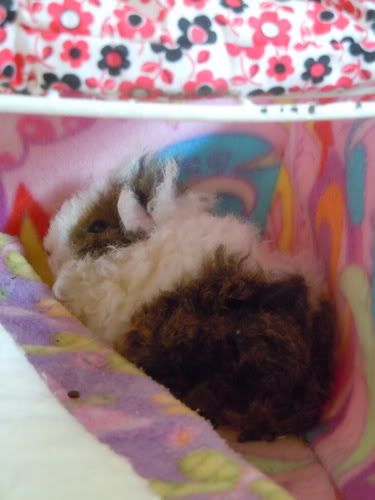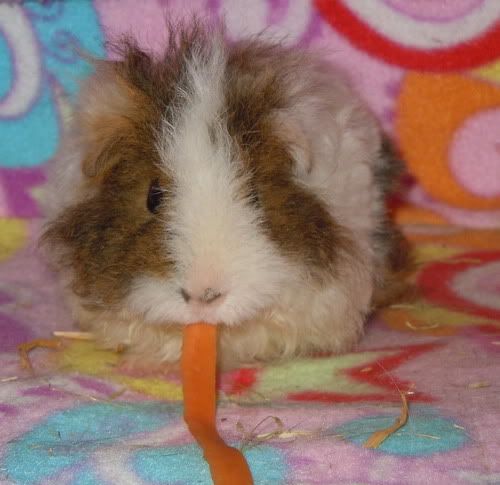 Ella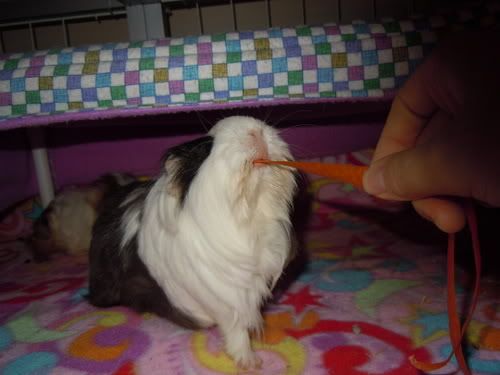 More to come! (only allowed 10 images per post)